Are you interested in selling our products without the need for holding the items in stock or creating further complications?
You may be interested in starting your own reloading/sporting goods business but not have the overhead capital to purchase large quantities of stock prior to trading. If so, drop shipping is for you.
At Reloading UK, we offer a large inventory of over 22,000 products from 22 different brands within the reloading and sporting industry. All prices are VAT free for orders dispatched outside of the UK and we offer the largest trade price catalogue of any UK distributor.
We give you the freedom you require to develop your own web shop / e-commerce platform using our product CSV files which contain all the product attributes you require.
FAQ's
Q: What is drop shipping?
A: Drop shipping is a retail method where you purchase items directly from our website once you have already sold them to your customer. We then pack the items and dispatch them direct to your customer using the shipping method you have chosen at checkout. There is no need to hold any inventory or worry about expensive overheads.
Q: What are the benefits of drop shipping?
A: No inventory is required. No fulfilment warehouse is required. No expensive overheads. Updated catalogue and inventory shared on a daily basis.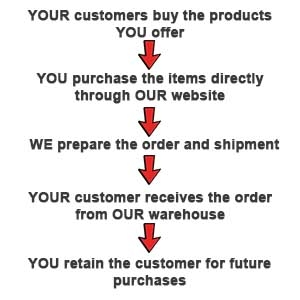 Q: What Countries/Territories do we drop ship to?
A: All products may be drop shipped to all countries apart from hazardous materials and licensable items (Ammunition, Powder, Primers, Weapons) which are UK only and may require further documentation prior to dispatch.
Q: Do you place marketing material within the package?
A: No. We do not place any marketing material, invoices or labels within the package. Your customer will not know that the order was fulfilled by Reloading UK.
Q: When will my customers order be delivered?
A: All orders are dispatched on the same day as purchase. UK deliveries take place dependant on the delivery option chosen by you. International deliveries take place within 7-10 days.
Q: How do I become a customer and use your services?
A: Fill out our application form here. All you need is to be a company or self employed individual, a minimum annual sales turnover of £20,000 (guide amount), Inactivity no greater than 2 months without prior notice.
All of our drop shipping services are free of charge and are dispatched in none branded packaging with no invoice or marketing material contained. This way, your customer is not led towards purchasing direct from ourselves in future and they remain a loyal customer of your company.
The drop shipping process is very simple once an account is open and can be done directly through our B2B platform.....